Dear friends,

These nuggets of insight from the word of God are a product of my daily devotional life. I am so happy to be afforded the opportunity to share them with our MJAA family and pray that they might provide aid and comfort to many as they have for me.
For Messiah's glory,
Joel Chernoff
MJAA General Secretary
I encourage you to subscribe today.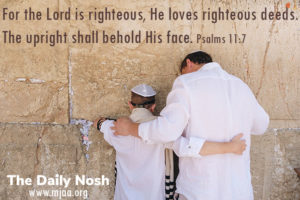 For the Lord is righteous, He loves righteous deeds. The upright shall behold His face. (ESV) Psalms 11:7
Nosh:
As I meditated on this verse, two insights encouraged and blessed me. First, when we do the right thing, God feels happy. In other words, God has a positive emotional response to something we do. Second, righteousness (doing the right thing before God) opens the door to a close, intimate and face to face relationship with Him. We naturally want to be around people that make us feel happy and God is no different. As we bless Him, He in turn releases an increasing measure of His favor in our lives.